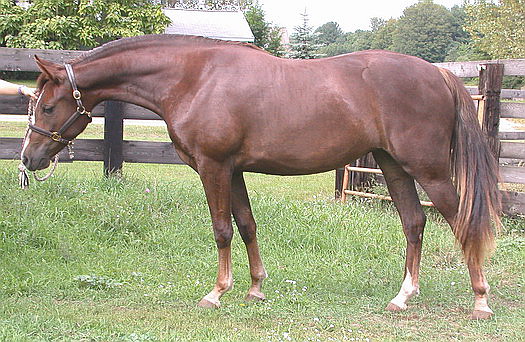 Brandywine - Spetember 2006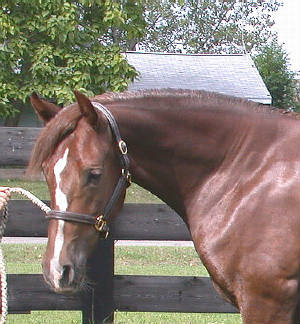 SHILSTONE BRANDYWINE
Brandy is a big, bold, balanced yearling filly that is eager to have a new owner to give her the attention she craves and deserves. These photos here were taken September 8th, 2006, with her directly out of the pasture. She is over weight and unfit, yet you can still see her quality thru and thru. The proverbial "ugly duckling" here ... she just get's better and better with each passing month.
Her dam is a very imposing mare, being an honest 15.2+ hands with a stout build (and breath-taking movement). We just measured Brandy at an *honest* 15.0 hands as a long yearling (short foot, no shoe), with alot of growing yet to do. Not only does she possess the heigth that is in such demand now, she has the body and elegance that is unusual to find together. Her sire (Escanaba) was an extremely refined and elegant individual and we think this crossed on her dam gave us a "dream result". Brandy is truly a physical example of her breeding, a blend that one can only hope for.
Handled daily since birth, she has a good foundation on her. There isn't too much she doesn't do: clipping, farrier, bathing, loading, stalling, ties, blankets, etc. She is very sensible and sane in nature, especially with guidance from a confident, quiet person. No vices what-so-ever!
With age she is really growing into herself. Her eye is getting expressive and her head starting to fit her frame. What once seemed like alot of bone is beginning to balance out her size and frame. Brandy has always had ideal ears (thanks to her sire) ... they are crisp and beautifully shaped. Frosting on the cake is her near red silver color and minimal sabino markings (funky facial white with white extending well onto bottom lip and one jagged hind sock).
Her athletic ability must be seen to be appreciated. She is a very elastic mover with plenty of suspension and impulsion naturally ... this comes from her rich maternal Flyhawk blood no doubt. Up-hill loft to her canter that is sure to be a dream to ride. Altho she is very sensible she can really put on the show as well, with her head up and tail flagged ... for a big girl she doesn't lack grace or kinnectic aptitude. Photos will never be able to capture her athletic ability and I encourage people to see her in person for the full picture.
I sold her dam to a good friend and intended to keep Brandy for future replacement use in the breeding shed and show ring. However, my interests have changed and it just isn't practical to keep such a nice filly here, unutilized. Her quality is far too deep to sit in a paddock unappreciated and unproven.
Please feel free to contact me for more information. Terms are available to approved homes.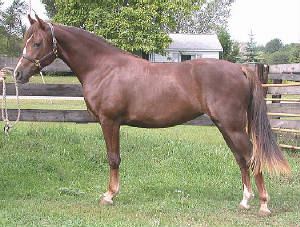 Pedigree for Brandywine

Sire
Escanaba
Sire
Man About Town LPS
Sire
Tug Hill Celebrity
Sire
WHam Bam COmmand
Dam
Tara's Rebecca
Dam
Mi First Love
Sire
Devan Wexford
Dam
HLM Caption
Dam
Mirabella
Sire
Dancity Ala Bam
Sire
Wham Bam Command
Dam
Norseland's Kristina
Dam
Schiaparelli
Sire
Wham Bam Command
Dam
Townshend Donachime
Dam
Avondale Sweet Rosie
Sire
Darkhawk of Hideaway
Sire
Sunup Mike
Sire
Funquest Falcon
Dam
Funquest Modana
Dam
Hylee's Firefly
Sire
Torchfire
Dam
Choquita
Dam
Avondale Bernes Hope
Sire
Blackwood Correll
Sire
Red Correll
Dam
Lady Rockwood
Dam
Cotton's Susie Kay
Sire
Kenny's King Cotton
Dam
Kane's Sistie Kay
This pedigree page was built for free at SitStay.com