Pedigree for Luvabillity

Sire
Nobility
Sire
Noble Command
Sire
Waseeka's In Command
Sire
Waseeka's Nocturne
Dam
Miller's Adel
Dam
Waseeka's Interlude
Sire
Waseeka's Nocturne
Dam
Waseeka's Thisizit
Dam
Lost River Sanfield
Sire
John Wayne Brady
Sire
Jody's Ace of Spades
Dam
Miranda Brady
Dam
Jason's Winett
Sire
Devan Jason
Dam
Roubikate
Dam
Merwins Caramore
Sire
Forevermore
Sire
Beamington
Sire
Mr. Breezy Cobra
Dam
Ellen Bar
Dam
Merwin Madonna
Sire
Fairfield Fortune
Dam
Merwin's Adonna
Dam
Merwin's Breezette
Sire
Applevale Adonis
Sire
Sealect of Wind-Crest
Dam
Windcrest Nancy C
Dam
Patty Jo Breeze
Sire
Mr. Breezy Cobra
Dam
Patty Lewis
This pedigree page was built for free at SitStay.com
***************
AVONDALE SWEET ROSIE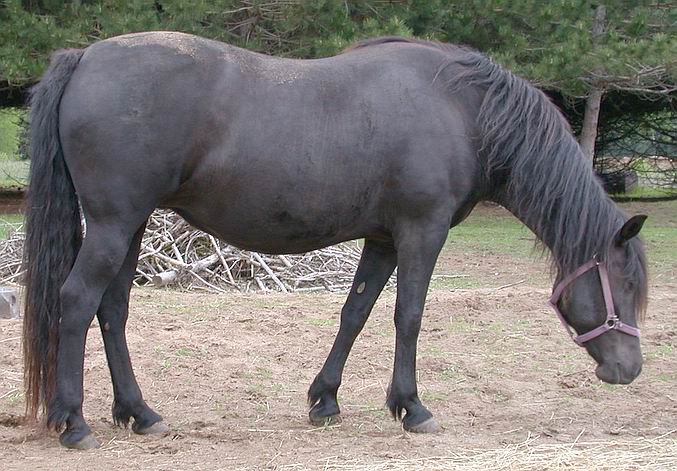 (Darkhawk of Hideaway x Avondale Bernes Hope)
Pedigree for Avondale Sweet Rosie

Sire
Darkhawk of Hideaway
Sire
Sunup Mike
Sire
Funquest Falcon
Sire
The Brown Falcon
Dam
Dot S Bell Ann
Dam
Funquest Modana
Sire
Pukwana
Dam
Modelette
Dam
Hylee's Firefly
Sire
Torchfire
Sire
Senator Graham
Dam
Jubilee Joy
Dam
Chiquita
Sire
Pride of King
Dam
Cinnamon Queen
Dam
Avondale Bernes Hope
Sire
Blackwood Correll
Sire
Red Correl
Sire
Will Rogers
Dam
Kate Smith
Dam
Lady Rockwood
Sire
Shenandoah Red
Dam
May Rockwood
Dam
Cotton's Susie Kay
Sire
Kenney's King Cotton
Sire
Cotton Hill's Choice
Dam
Lady Helen
Dam
Kanes Sistie Kay
Sire
John Geddes
Dam
Miss Kay
This pedigree page was built for free at SitStay.com
***************
As you can see, we value the blood of the Funquest bred horse. Specifically the blood of Sunup Mike, who was our first introduction to the Morgan breed. Mike was unmistakeably Morgan and was an ambassador for the breed like no other, before or since.
David Martin was the breeder and lifelong owner of Sunup Mike, so one cannot think of either without thinking of the other. He and his wife Judy were very influential on us and we're so proud to continue on with some of their program for many generations to come. The Hideaway suffix is alive and well in our herd! Each time a foal is born we think "what would have David and Judy thought of this one?".

At Shilstone we prize our broodmares and are grateful for their many contributions. Each mare has her own distinct personality and physical attributes that make her unique and special. We strongly believe that the strength of any program is within it's broodmare band. These lovely ladies repay us with good fertility, beautiful babies and lots of love!
Beluved of Shilstone at 48 hours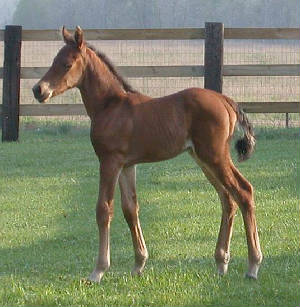 Luvabillity's Mothers Day present to Shilstone
2005 Foal Schedule
Luvabillity foaled at 5:00 am Mothers Day morning (May 8th), a big, beautiful bay filly by Darkhwak of Hideaway. We are very pleased with Luvie's gift and have named her Beluved of Shilstone. Darkhawk is now 25 years old, and we're so thankful to now have two of his daughters here at Shilstone.
Up-Hi Mem-O-Ree presented us with a handsome bay colt by LV's The Music Man (Fletcher Thornyhill x Sunup Sometime) on April 5th, 2005. Brego of Shilstone (raf) has the size and balanced structure we were hoping for in this cross. He is photo'd below, during an early morning romp.
Avondale Sweet Rosie delivered a huge, dark chestnut, minimal sabino filly in mid January by Escanaba (Man About Town LPS x Mirabella). With Rosie's huge frame, size of 15.2 hands and balanced conformation along with "Snob's" refinement, elegance and movement we got the bomb shell we were hoping for. Rosie is now on lease to Marilyn Muir of Muir's Morgans and she has been bred to the gorgeous palomino stallion Hampshires Delites Victory for a (hopefully) buckskin filly in 2006.
Brego of Shilstone at one month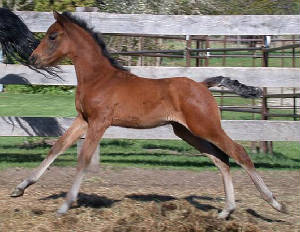 (LV's The Music Man x Up-Hi Mem-O-Ree)
***************
UP-HI MEM-O-REE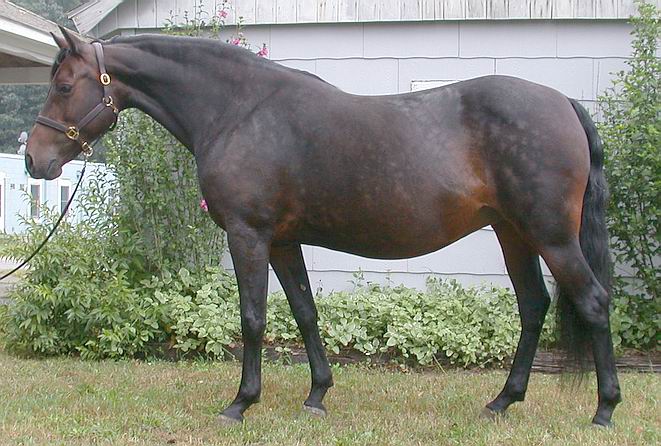 (Washington Patriot x Duskidol of Hideaway)
Pedigree for Up-Hi Mem-O-Ree

Sire
Washington Patriot
Sire
Shaker's Palo
Sire
Troutbrook Playboy
Sire
Waseeka's Nocturne
Dam
Mistress Merridawn
Dam
Shaker's Deborah
Sire
Tas-Tee's Firefly
Dam
Holly's Gay B
Dam
SunnyLea Mary J
Sire
Devan Commander
Sire
OCR
Dam
Gleneida
Dam
Sunup Felix's Joy
Sire
Funquest Felix
Dam
Funquest Brownelda
Dam
Duskidol of Hideaway
Sire
Sunup Mike
Sire
Funquest Falcon
Sire
The Brown Falcon
Dam
Dot S Bell Ann
Dam
Funquest Modana
Sire
Pukwana
Dam
Modelette
Dam
Tas-Tee's Black Knight
Sire
OCR
Sire
Captor
Dam
Roz
Dam
Betty J
Sire
Jekyll
Dam
Bekky Stark
This pedigree page was built for free at SitStay.com